Protein is one of the main building blocks of our bodies - we need large quantities of the stuff to sustain regular bodily functions throughout day-to-day life. Being the second most abundant compound in the body, protein belongs to the macronutrient family, joined by fats and carbohydrates.
Most commonly known for being found in animal products, protein can also be found elsewhere in nuts, legumes and most importantly our vegetarian or vegan Protein Balls.
Why is protein important in
Our Diets?
Although protein is often associated with building and repairing muscle and therefore only consumed by gym bunnies, it's actually essential for us all, no matter your lifestyle. Here are just a few reasons why protein should regularly incorporated into your diet… Building Blocks
Protein plays an important role when it comes to building and repairing not only muscles but cartilage, tissues and skin too.
Oxygenate
Red blood cells need a sufficient amount of protein to efficiently carry oxygen around the body.
Digest
Protein keeps you feeling fuller for longer as it slows the release of
sugar from food and is slow to break down itself, unlike carbohydrates. Regulation
Finally, protein helps support healthy aging by maintaining muscle and bone strength as well as making up part of our skin, hair and nails.
I need to know...
Why a Protein Ball?
We're 100% Natural
Many Protein Bars are quite often just glorified chocolate bars. When you take a look at the ingredients, you'll see they're packed with the processed ingredients and added nasties.
Not us though! We produce protein snacks made with only 100% natural ingredients, packed with protein and enriched with vitamins, minerals and fibre.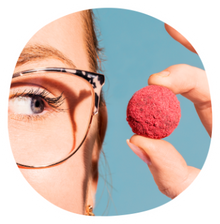 Balls VS Bars
Our Protein Balls come in conveniently sized bags, ideal for chucking in a handbag, desk drawer or nibbling on the commute to work.
With 6 balls in a bag, they also don't have to be eaten all in one go if you didn't want to! However, they taste so good, we can almost guarantee you will!
3 Ranges to pick from
Our expertise and knowledge in the sports and nutrition industry means we understand that no two bodies are the same and we all have very different dietry needs.
With three different ranges and 13 delicious flavours to pick from, we make healthy snacking easy and tasty.